BODY contouring
Achieve a slimmer, natural looking appearance without surgery or downtime.
SculpSure is a non-invasive, body contouring system for the reduction of stubborn fat in areas such as the abdomen, inner or outer thighs, back and love handles.

​

The 25 minute procedure permanently destroys up to 24% of treated fat cells without surgery or downtime.

It is an FDA & Health Canada approved procedure that has no recovery time, patients can have the treatment during their lunch hour and return to work immediately. SculpSure is ideal for people with trouble spots, particularly those that seem resistant to diet and exercise.

The latest in laser lipolysis, the machine utilizes the power of heat to easily and permanently destroy fat cells in most problem areas

Fat cells are permanently destroyed and will not regenerate. Results can be seen in as little as 6 weeks with optimal results typically seen at 12 weeks. .

Come in for your free consultation and find out if SculpSure is the body sculpting solution you have been looking for.

​BTL Vanquish ME is the only non-contact body contouring system available. It's advanced system specializes in body shaping and circumferential reduction reduction of the abdomen and thighs.

Selective RF technology targets the largest treatment area in a single session, ensuring an unrivalled level of patient comfort, on any body shape and size.

The procedure is pain free, all you will typically feel is a warm sensation in the treated area, which may last for a few hours post therapy. The treatment is performed in a lying position, so you can easily relax during the procedures. Patients can return to normal activities immediately post treatment.

The procedure consists of a series of treatments spaced one week apart, with results becoming evident in as little as 2 weeks and full results in 2 months.

Is VanquishME exactly what you've been looking for? Come in for your free consultation and find out more.

​
Book your complimentary consultation with our Patient Consultant, and let us design a customized treatment plan to help you achieve the results you desire.

Because we have multiple technologies, there is no "one size fits all" solution. Each plan is custom tailored to fit the needs and desired outcomes of each of our individual patients. ​
Powered by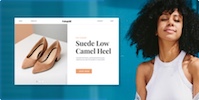 Create your own unique website with customizable templates.